This is for anyone is who desperate to do something different on Roast Chicken night. I got the idea from Neil Perry's beautiful book Rockpool. He would probably have a complete fit if he saw how I have butchered his recipe for Red Braised Pork Hock. But it is testament to the man's genius that even in this embarrassingly simplified and speeded up form, these ingredients combine to make for a fragrant, mind clearing and beautiful supper. After trying this you might even be inspired to try the real thing ... one day when you have lots of time!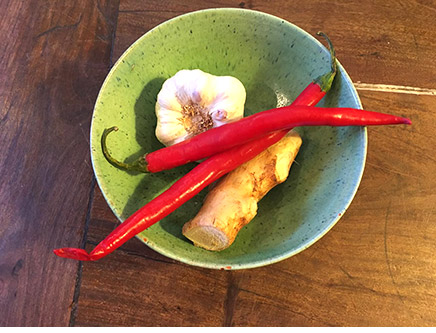 Ingredients
1 large whole chicken
One large or two medium onions (sliced)
4 cloves of garlic (sliced)
10cm of fresh ginger (grated)
1 whole stick of cinnamon
4 cardamom pods
4 cloves
Pinch of dried chilli flakes
80ml soy sauce
80ml mirin vinegar
250ml water
4 teaspoons of sugar
Fresh orange peel (about 8 long strands – no pith please!)
Method
Heat the oven up to 220 degrees C.

Butterfly a large whole chicken. I simply cut it down the breast bone and then crack the spine open with the heel of my hand so that your chicken lies obligingly flat.

Put the sliced onion, garlic, spices, chilli, ginger, orange, soy, sugar and Mirin as well as a cup of water in a high sided roasting pan.

Place the butterflied chicken on top skin side facing up.

Season with salt and pepper and place in the preheated oven for 20 minutes until the skin is browned.

Now baste with the sauce, cover securely with foil, return to the oven which must now be turned down to 150 degrees C.

Slow bake for about 2 hours or until the flesh is really loose on the bones.

Now very carefully (it will be quite falling-apartish at this stage) transfer the chicken to a platter and keep covered and warm.

Strain all the pan juices into a small saucepan, ladle the excess fat off the top, and then reduce the liquid until it goes from being watery to saucy (you can add some extra freshly grated ginger and a bit of honey to taste if you think it needs it before you begin the reduction). Add a small knob of butter and stir in to make it glossy. Pour the glazed sauce over the chicken.
To Serve
Serve with some stir fried or wilted Chinese greens like bok-choy and a bowl of steaming basmati rice with lots of fresh coriander to garnish. My family are also partial to a dollop of Hoi-san Sauce at this point.
You can obviously substitute the chicken for pork neck, beef shin, beef ribs or any other meat which co-operates with being slow baked. You might have to adjust the cooking time as chicken obviously cooks quickest.